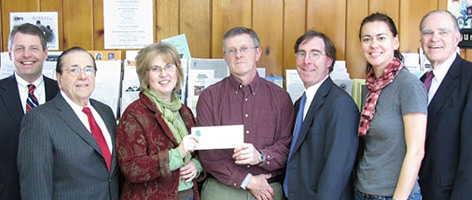 Competitive grants are awarded based upon the merit of the project or service provided. Strong consideration is given to addressing needs in one or more of the Foundation's focus areas and an applicant's willingness and ability to perform.
$2,500 – Roses for Autism (Ability Beyond Disability, Inc.) – to support pre-vocational and vocational education and training.
$500 – Shoreline Arts Alliance – to support publication of The Green Book
$5,000 – The Guilford Interact Student Advisory Fund – The Foundation established and endowed fund to support a student grant-making initiative in cooperation with The Guilford Interact Club.
$4,000 – Guilford Community Garden Association (Watershed Partnership, Inc.) – to support establishment of a community garden
$5,000 – Junior Achievement of Southwest New England, Inc. – to support financial literacy education in the Guilford Elementary Schools
$3,000 – Lifelinx Corporation – to support addiction rehabilitation services
$400 – The Guilford Garden Club – to support "The Greening of Guilford" program
$2,000 – Guilford Poet's Guild – to support publication of the Guild's Tenth Anniversary Anthology
$1,300 – Guilford Interfaith Ministries – to support the Meals on Wheels program
$2,500 – Guilford Food Bank – in support of "Make a Difference Day"
$1,100 – Guilford Social Services – contribution o the Guilford Welfare Gift Fund
$25,000 – Guilford Center for Children, Inc. – for new teen room
$1,000 – Menunkatuck Audubon Society – enhance the environment in Guilford Salt Marsh Meadow Sanctuary
$6,000 – Healthy Communities Initiative
$20,000 – Guilford Land Conservation Trust – to support acquisition of the Broomstick Ledges parcel
$25,000- Guilford Free Library – to support the library expansion and construction of the teen room
$3,000- Guilford Senior Services – establishment and support of the Lifelong Learning program
$3,152- Guilford Housing Authority – in support of elderly and handicapped housing in Guilford
$2,711- Guilford Interfaith Ministries – to support Charlie's Closet
$25,000- Guilford Fund for Education (GFFE) – to support creation and incorporation of an education- specific non-profit organization in Guilford