$20,012 Grant Awards by Guilford Foundation Aim to Make a Difference
At its December Board meeting, the Guilford Foundation Board of Directors approved $20,012 in grants to 8 local nonprofit organizations.
"We were impressed with the scope and quality of applications," said John Crawford, Board President. "We believe these grants will make a real difference to Guilford residents across a broad spectrum of needs, from arts to addiction services to domestic violence."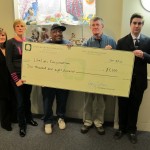 The Board considered each applicant's proposal for its potential impact on families, cultural life, and access to resources, as well as the project's general influence on the well being of Guilford residents. Applications were also reviewed for collaborative and inclusive practices and for demonstration of best practices or innovations.
The Cove Center for Grieving Children
$2,500 to support a 22-week peer support group for grieving children and their families at their Guilford Family Site.
Guilford Interfaith Ministries
$1,897 to invest in computer technology for the purposes of increasing effectiveness and efficiency in their Food Bank, Friendly Visiting, and Charlie's Closet programs.
Guilford Preservation Alliance
$2,000 for costs relating the creation of a walking map/guide of Guilford's historically and architecturally important sites.
$4,800 for new, bi-monthly recovery management support groups for residents of Moose Manor, a transitional supportive sober house in Guilford.
Mystic Aquarium and Guilford High School
Through a joint grant with the Guilford Fund for Education, $440 for a traveling science class that will teach 200 Guilford High School students about endangered ecosystems.
$2,375 for 6 Musician Preparatory Visits (90 minute blocks) to Guilford schools and a Mozart Guitar Hero Program to be held at the Guilford Library.
Under the recommendation of the Guilford Interact Student Advisory Group, $1,000 to purchase winter clothing for needy children in Guilford.
$5,000 for domestic violence support services.
In addition to these grants, the Board also approved a challenge and matching grant of $2,500 to the Guilford Keeping Society to encourage fund raising efforts for the completion of an Archives Room at the Medad Stone Tavern Museum.
The Guilford Foundation's next application deadline for funding is on March 1st, 2012. For more information on the grant application process, go to www.guilfordfoundation.org or email Liza Janssen Petra at lizapetra@gmail.com.