Foundation News
October 22, 2013
Bishop's Orchards to offer Giving Opportunity for Guilford
During the month of November, Bishop's Orchards Farm Market & Winery will provide an opportunity to support the Guilford community when you check out. After shoppers have loaded up on supplies of native fruits, vegetables and other goodies, they will have the option to make a tax-deductible donation to a new legacy endowment for the Guilford Community Fund. And, to sweeten the pot, Bishop's will match each donation made at the register during the month—dollar for dollar!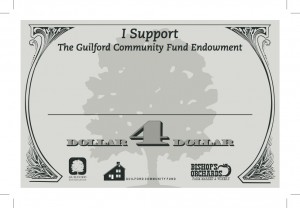 "We, the Bishop Family, are pleased to be able to help support this legacy that is being created, both as a family and a local business," says Sarah Bishop DellaVentura. "We are proud to be a part of this community and to give back what we can. We believe that our customers can help us to rise to the challenge to help raise funds for this endowment and feel good knowing that they are giving back to the community themselves too!"
The donations will support a new permanent legacy fund at the Guilford Foundation, whose proceeds will support the annual fund drive of the Guilford Community Fund. The Guilford Community Fund Endowment is being established through the generosity of Bill and Kate Lee and their family, who are longtime supporters of both the Guilford Foundation and the Guilford Community Fund. The Lees have offered up to $25,000 for this effort if the community—including the Bishop's challenge—can match it. This means a dollar given at the register Bishop's will be quadrupled ($1 at register will be matched by $1 from Bishops, totaling $2, which will be matched by the Lees for a total of $4 for the Fund).
The income from the Guilford Community Fund Endowment will provide a source of permanent support for the Community Fund's Annual Appeal, which raises and distributes over $120,000 each year to non-profit organizations best qualified to serve Guilford residents in need. These funds are critical to the ability of these organizations to address needs in Guilford, from services for intellectual disabilities to outdoor education to housing to women in transition to mental health services to Meals on Wheels and the Food Bank.
"Two things thrill me about this giving opportunity," states Lydia Forgetta-Sheffield, President, Guilford Community Fund. "One is that you will be given the chance to double the value of your gift and share it with the members of our Guilford community. And the other is that you will be part of the legacy! You never know when you may need the assistance of one of our 22 agencies! Thank you to the Lees and the Bishops for this chance to start the endowment. Come, give, and share this November."
The mission of the Guilford Foundation is to connect people who care with the causes that matter to them to enrich the quality of life in Guilford; now and for generations to come. Tom Pinchbeck, President of the Guilford Foundation Board of Directors notes: "We are delighted to help connect the Lee Family with a cause that matters to them, and to all of us: the annual fund drive of the Community Fund. To have the Bishops family join this effort demonstrates, once again, the power of collaboration and the strength of the Guilford community."