The Guilford Foundation Invests over $109,000 into Community through Grantmaking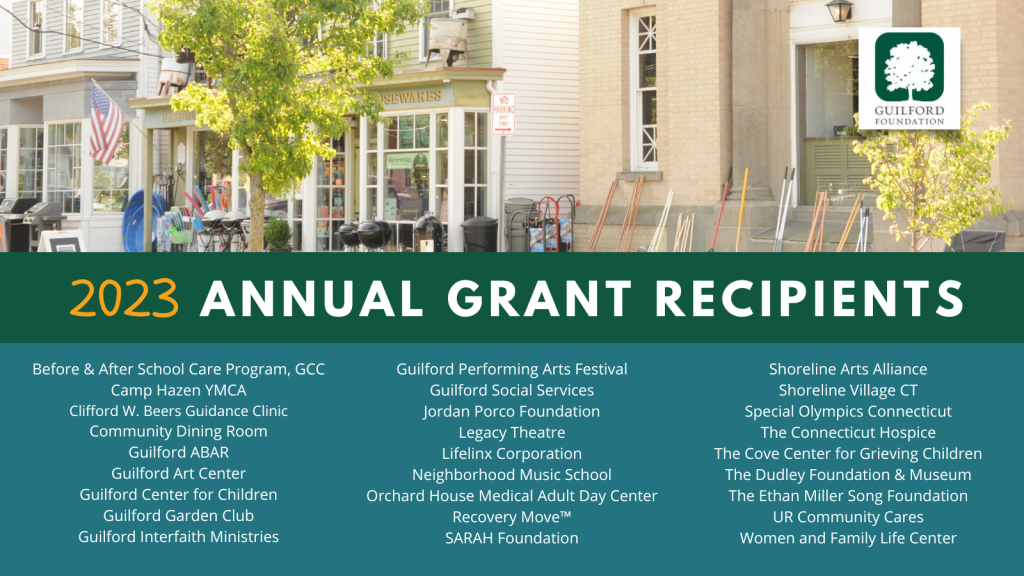 TGF distributed $109,200 to 28 community-serving organizations through its 2023 grantmaking program. The awards, ranging from $1,000 to $12,500, support vital area programs and services utilized and valued by Guilford residents.
"Our applications were up 37% from 2022, which is exciting as we are always looking to support new nonprofit partners. The grantmaking process starts with establishing a theme and priorities for the year that provide the framework to make decisions," explained Alexander Sulpasso, Community Investment Committee Chair. "This year's theme is wellbeing with key focus areas of mental health, basic needs, and strengthening our community."
The breakdown of The Guilford Foundation's 2023 grant distribution by focus area is as follows:
$17,000 to 4 organizations focused on mental health (awareness, prevention, and treatment)
$25,500 to 5 organizations addressing basic needs (food, shelter, and emergency assistance)
$66,700 to 19 organizations that strengthen the community (child and youth development; justice, equity, diversity, and inclusion (JEDI); arts and culture; and other innovative initiatives)
"We approach the grantmaking process judiciously. Every committee member reads all the applications with a smaller team assigned to do a deeper dive for each request. The goal is to find the programs and services that align with our mission and create the most meaningful impact for our Guilford community," said Sulpasso.
The value of The Guilford Foundation's endowment determines the available funding for the competitive grant process. Over the past five years, assets have more than doubled, growing from $2.9 million in 2018 to the current value of $6.5 million, thanks to donor generosity. As a result of the larger endowment, TGF more than doubled the number of grants given to the community.
"Our 2023 grant recipients are doing tremendous work to move our community forward. We're proud of the diversity of services and programming they bring to our Guilford residents," commented Liza Janssen Petra, Executive Director. "Grantmaking is really at the heart of what we do as a community foundation. We form trusted relationships with charitably-minded donors who give back, intending to enrich the quality of life in our remarkable town. A heartfelt thanks to our compassionate supporters who truly make a difference."
Nonprofit organizations will have another opportunity for funding through the American Rescue Plan Act (ARPA). The Town of Guilford's Board of Selectman appointed TGF to disburse $500,000 in federal funding to nonprofits serving Guilford that are still recovering from the impact of the COVID-19 pandemic. Grant applications will be available at the end of June. Visit the TGF website for more information.
Petra added, "As we look to the future, our goal is to continue to grow our endowment to enable us to invest more into our community through our grants, sponsorship awards, and scholarship opportunities."
The Guilford Foundation 2023 Grant Recipients include (in order of grant size):
Women and Family Life Center ($12,500): Guided Assistance Program (GAP)
Clifford W. Beers Guidance Clinic ($7,500): Outpatient Mental Health Program
Guilford Art Center ($7,500): Operating Support
Guilford Center for Children Before and After School Care Program ($6,000): Before and After School Care Program
Guilford Center for Children Early Education ($6,000): School Year Tuition Assistance
Guilford Anti-Bias Anti-Racist (ABAR) Alliance ($5,000): Equity-Focused Professional Development for Guilford Teachers
Guilford Performing Arts Festival ($5,000): GreenStage Guilford Performing Arts Festival
Guilford Social Services ($5,000): Back to School Program
Recovery Move™ ($5,000): Recovery Move ™
Special Olympics Connecticut ($5,000): Central Shoreline Local Program Funding
The Ethan Miller Song Foundation ($5,000): Guilford Gun Buyback and Safe Giveaway
Shoreline Village CT ($3,900): Strategic Planning
The Dudley Foundation/The Dudley Farm Museum ($3,750): Operating Expenses
Community Dining Room ($3,500): Food Expenses for Nutritional Programs
Camp Hazen YMCA ($3,000): Financial Assistance to Support Guilford Youth
Lifelinx Corporation ($3,000): Recovery Management Support
The Cove Center for Grieving Children ($3,000): Guilford Family Program
Guilford Interfaith Ministries ($2,500): Technology Upgrade
Shoreline Arts Alliance ($2,500): General Operating Expenses
Orchard House Medical Adult Day Center ($2,300): Music Therapy Program
Guilford Garden Club ($2,000): Greening of Guilford
Guilford Social Services ($2,000): Holiday Basket Program
SARAH Foundation ($2,000): Gavin and Friends by SARAH Tuxis
Jordan Porco Foundation ($1,500): Guilford 4 What's Next- Suicide Prevention Program
The Connecticut Hospice ($1,500): Community Grief Support Services
Legacy Theatre ($1,250): Operating Expenses
Neighborhood Music School ($1,000): Guilford Student Tuition Subsidy Program
UR Community Cares ($1,000): Guilford Community Cares